Turku Chamber of Commerce member benefits

Networking
Turku Chamber of Commerce has over 1,800 member companies who represent more than 100,000 employees. We organise regular networking events for our members free of charge. We encourage our members to participate in these events and seize the opportunity to get to know their fellow members. In addition, our committees offer a perfect setting for networking.
Training courses and events
We provide timely and practical training on financial and payroll administration, taxation and foreign trade matters, among other topics. Through us, you have access to the top experts in Finland at member prices! We also hold free events concerning current affairs for our member companies. We organise both face-to-face and remote training courses. Learn more about our training courses and events here. Our training courses are generally held in Finnish.
Free legal counselling
Turku Chamber of Commerce offers its members free counselling in matters related to, for example, employment, taxation, or business law. Learn more here.
International services
We offer our member companies telephone advice for questions about the requirements of foreign trade documentation free of charge, a 50% discount on ATA Carnet customs documentation, and a free electronic documentation printing service.
News
Our weekly newsletter shares timely information about regional affairs and upcoming events. We conduct member surveys to collect information directly from our members and use their answers to develop our operations.
We publish the Chamber of Commerce member magazine four times a year. The magazine includes articles on both regionally and nationally interesting topics. Turku Chamber of Commerce is always on top of matters relevant to business life, including taxation, employment, international and EU affairs, and trade legislation.
Turku Chamber of Commerce Yearbook is published once a year and reaches the most important decision-makers in Turku and elsewhere in Southwest Finland. The Yearbook summarises the activities of Turku Chamber of Commerce and lists all the member companies. Only member companies of Turku Chamber of Commerce may register to be listed in the industry directory (subject to a fee).
Member logo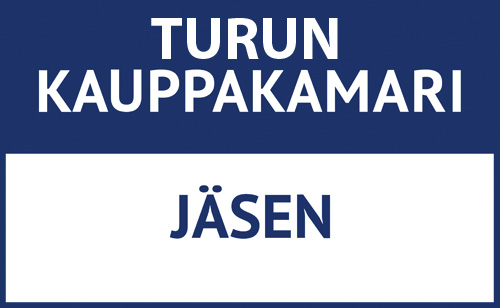 Turun kauppakamarin jäsen -logoa saavat käyttää kaikki Turun kauppakamarin jäsenet omassa viestinnässään.
Other benefits
Member price for event tickets at the Turku Fair Centre: A 50% discount on normal prices EUR 12–20/ticket. Minimum order: 20 tickets/event. Please place your order in good time before the event date: info@turunmessukeskus.fi. The order must include the following information: event name, number of tickets ordered, contact person and their email address, and invoicing address. The tickets and the invoice will be sent by email.
A 10% discount on the Chamber of Commerce Medals of Merit
---
Membership fee criteria
Companies:
| | |
| --- | --- |
| The number of staff | Membership fee |
| 1-4 | 236 € |
| 5-9 | 314 € |
| 10-19 | 445 € |
| 20-49 | 664 € |
| 50-99 | 998 € |
| 100-199 | 1.976 € |
| 200-499 | 3.870 € |
| 500 or over | 5.0769 € |
Suborganisations, subsidiaries and affiliated companies*
Membership fee EUR 236
(*Suborganisations, subsidiaries and affiliated companies of companies operating in the region represented by the Chamber of Commerce; paid by the total number of personnel)
State-owned and municipality-owned companies
Membership fee EUR 469
Municipalities
Membership fee 30 cents/resident. Minimum membership fee EUR 236.
Associations, foundations
Membership fee EUR 231